Hi Ladies!
First let me thank you all lovely Ladies for sticking with me
I enjoy so much all your comments and virtual friendship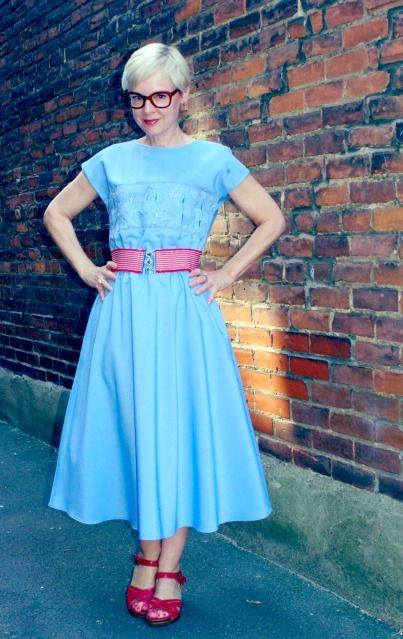 This lovely dress is from Ste-Michael it was $5 at Renaissance - It is in mint condition, it came with the original belt which is rare, it seems the belts never make it through the decades

I never wear the original belt - i think this belt updates the look of the dress

It adds an unexpected element of fun to the dress
Vintage experts what year is that dress?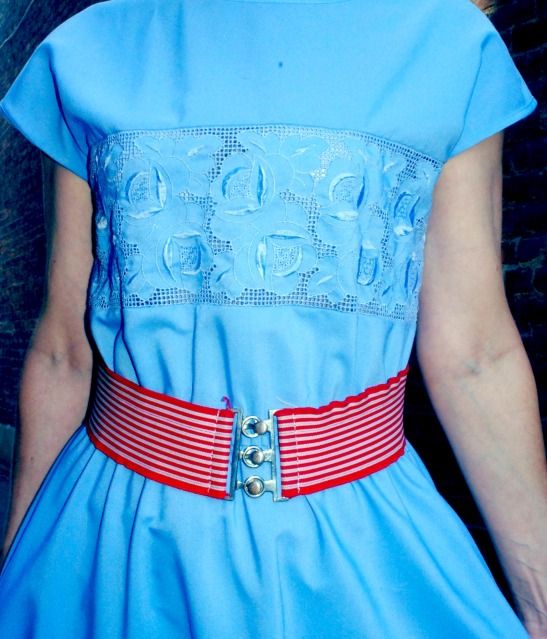 I love the upper detail of the dress
This is why i bought it otherwise it would have been just a plain blue dress
Have you noticed?
I am wearing a red vintage frame

There is a problem, there is no lenses
The uncooperative optometrist does not want to put lenses in my fabulous vintage frame
He said the frame might broke if lenses are put in - The not so nice optometrist, i nearly lost my patience i tell you said that they heat the frame in order to put in the lenses- the plastic is old and looses oil as it ages this is why it might brake
I think it is a scam to get you to buy new frames

Have you ever encountered that problem?

Now the second outfit

I love to do multiple outfit post by the way!

This is what i wore on Sunday
The top is a french label Naf Naf - i paid $0.50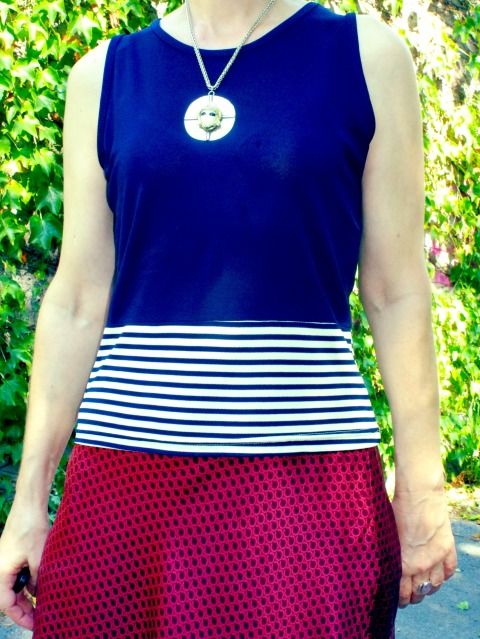 The skirt is from Banana Republic, i think i paid $1

Who said that a few dollars won't get you much these days?

Us thrift lovers know that it isn't true!


The necklace in a former life was a ring - The ring fell apart i so i decided to make it a necklace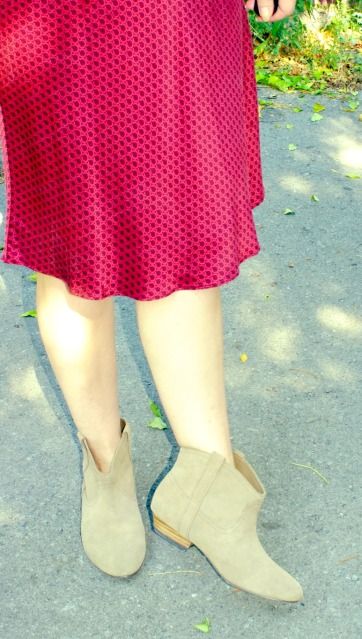 The booties were more, well, sometimes you know we spend a little more- especially on shoes!

They were on sale at H&M - $30 - they were originally $80!


My family is coming this weekend for a BBQ
I am looking forward to it!
My mother and I had our problems but since Izzy's wedding things got better between her and me
My mother is very important to me and i am very happy that we can put aside our differences
She is the coolest Lady around let me tell you - She will try anything once - well almost anything!
******
I hope you enjoyed this post
I will be back soon
Je vous fais la bise
Ariane xxxx