Hi Ladies!
Hope everybody is doing well
First and foremost welcome new readers and followers
When i started this blog way back in 2010 i did not know where this blog would get me
But so far i can say that i am happy to have met some wonderful Ladies -
Several outfits from yours truly for you special Ladies
I love Fall , ya, ya I said it before - i know some of you girls hate Fall
The summer here is hot and humid most of the time i prefer a bit cooler, but it is my preference - Plus Fall means that i switch clothes, plus I can layer and layer and mix and mix and remix...and SHOP some more!

Too bad it is too short of a season and winter soon follows with all its inconveniences

That I Hate with a Passion !

If somebody tells you that Canadians loved or are used to winter - Not True! We hate every second of it !


Give me a beach anytime!

Mr. D told me that this dress looked like a tablecloth - Men have a problem with dresses looking like tablecloths -
I don't, so i am wearing it!

I think the colors are SUPERBES!
Got the Doc Martens out
They don't hurt as much as last year

I recently talked to a Doc Martens sales clerk in the new shop downtown

She said you have to wear them non stop for a week even if you foot hurt and are covered with blisters -

She said -with that so sincere look in her eyes -

I said OK! that is the way to do it!

Are you mad or something i thought!

Of course i will not do what she said !

That is a bit extreme don't you think?

I love this outfit
Called it , recycling a summer dress




The hand you see above is my neighbor's
I was taking pics in the back alley and i saw that hand stroking the cat
I thought it was priceless
My neighbor is thinking about adopting this abandoned cat along with her sister
They live and the back alley and are fed by several people

Poor cats - it brakes my heart every time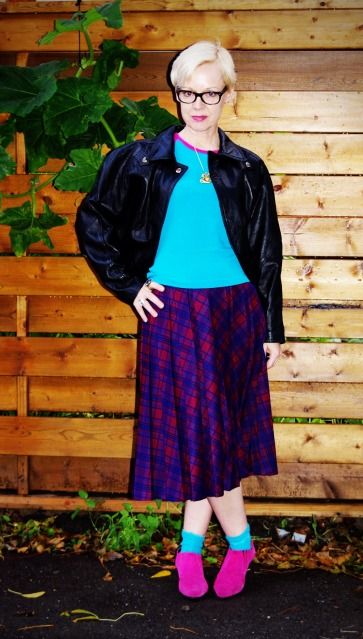 I am wearing an 70s or 80s polyester skirt from Paris Star

The company does not exist anymore

I find Paris Star stuff once in a while

The 80s leather jacket is a recent find at charity shop in my hood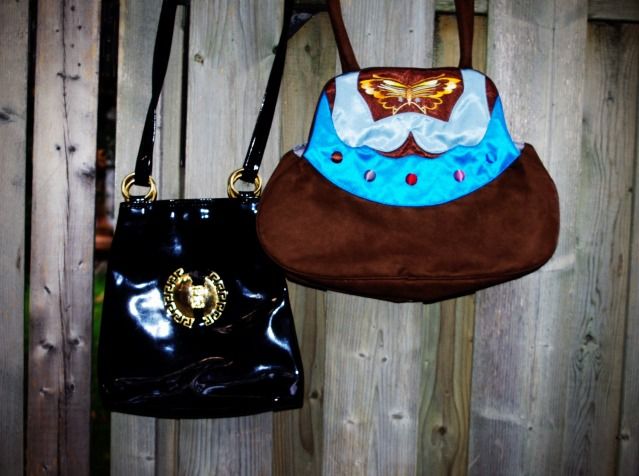 I have found those 2 purses this week as well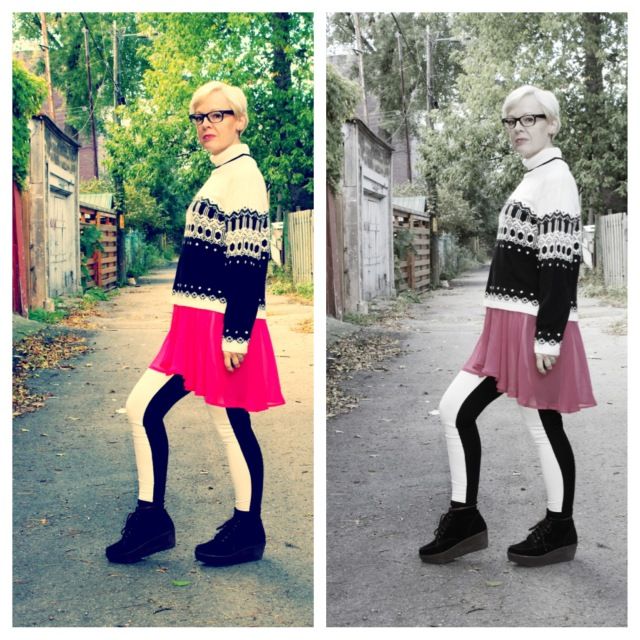 To conclude i have a story for you
Mr. D said i should tell you - I did not want to but what the hell -
A Montreal company who sells a line of high end clothes contacted me last week
The line is called Saint James
They ask me if i wanted to adverstise their samples sale in October
In exchange i would get a few samples
Sounded interesting and the clothes were pretty and right up my alley
The guy i dealt with was not
It was my first time negociating
It was difficult
I asked him what he wanted exactly in term of publicity
and bla, bla, bla to make a story short, when it came to what i wanted in exchange it was bit difficult- He offered a scarf and hat or a basic Tee i asked for a shirt with the Saint-James logo- I have to verify how much it would cost me, Come on! how much is a page of advertising in a newspaper? A bit more than the cost of a shirt don't you think? - He agreed at the end -
I asked him to send me the sample before i did any kind of advertising on my blog - I said you could mail it or send it to me by courrier - He offered to meet me and give me the samples - I didn't want to - did not see why i should meet him - He replied well sorry but i am not getting out of this office to go to the post office to mail samples for a blog like .....I did not understand his logic tell you the truth - he was willing to meet me but could not go to a post office?
And what did he mean by a blog like....anyway, i said sorry not interested - I am doing this blog for fun and i do not need this shit in my life buddy! I do not need your attitude or your stupid samples à la con
I did not have a chance to finish my sentence the B.... hang up on me
Here goes good manners in the wonderful world of fashion!
Next time you want to do business with me be kind, considerate and courteous -
*****
I hope you enjoyed this post
I will see you soon
Have a good weekend
Je vous fais la bise
Ariane xxxx